Experience Lincoln Black Label at Heiser Lincoln in Glendale, WI
The finest-quality materials, exceptional service, and outstanding benefits are just some of the components that are included in your membership when you purchase one of our Lincoln Black Label models.
Luxury service from the beginning
Customizing your Lincoln Black Label model is pertinent to your Lincoln Black Label experience. We at Heiser Lincoln, would like to extend an invitation to our Lincoln Black Label Customization Room. Here our Lincoln liaison will personally assist you with every detail. You can feel the smoothness of each Venetian leather sample and compare its color to that of the different wood grains and finishes. The liaison will show you samples of each theme the Lincoln Black Label models have available while they offer you any refreshments that you require. We want your Lincoln Black Label Customization Room experience to a luxurious, informative, and exciting one.
An outstanding collection of themes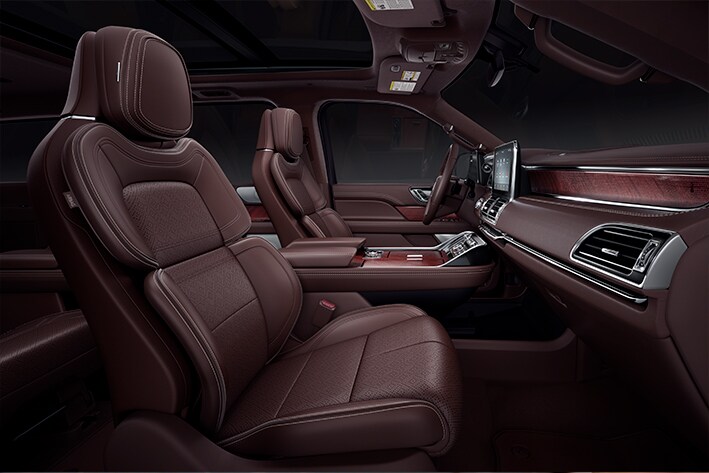 Lincoln Black Label Navigator Destination Theme
Lincoln Black Label includes ten different available themes to choose from. While you can always customize your Lincoln Black Label model, these impressive themes are a wonderful start. 
Center Stage - Inspired by the theaters dark black interior and bright red curtains, the Center Stage theme includes a Jet Black interior with Foxfire Red Alcantara trim and wood accents.
Indulgence - Even the names of these rich chocolate brown leathers will entice your palate: Truffle and Ganache. Once you add the Ziricote wood accents, your mouth will begin to water.
Modern Heritage - There is nothing more satisfying then the simplicity of black and white. The Modern Heritage theme takes that simplicity and intensifies it by including jet black and white Viance leathers, crimson stitching, and wood accents.
Chalet - When you hear Chalet you think of skiing down the slopes. With its white cashmere and rich espresso leather interior you will feel like you are sitting at the ski lodge before you even arrive there.
Thoroughbred - For those that have a love for horses, the thoroughbred theme is designed with you in mind. Chestnut leather accents adorn a black interior while Chilean maple wood balances the equestrian interior.
Rhapsody - Designed with music in mind, this soothing blue symphony features Alcantara sueded cloth, blue trim work, and blue Venetian leather.
Gala - Gala evokes the contrasting pleasures of a prestigious cosmopolitan event. Classic fusing with visionary. Drama merging with romance.
Flight - Taking inspiration from the rich history of aviation, the Lincoln Black Label Flight theme uses rich leathers and other materials to give one the sensation of taking to the skies.
Destination - Diamond weave perforated leather seat inserts combine with Khaya Mahogany appliqués to help travel become an art with the Lincoln Black Label Destination theme.
Yacht Club - Inspired by fine watercraft, Yacht Club pairs cool sea-blue leathers with sun-bleached woods and luxury with leisure.  
Membership Privileges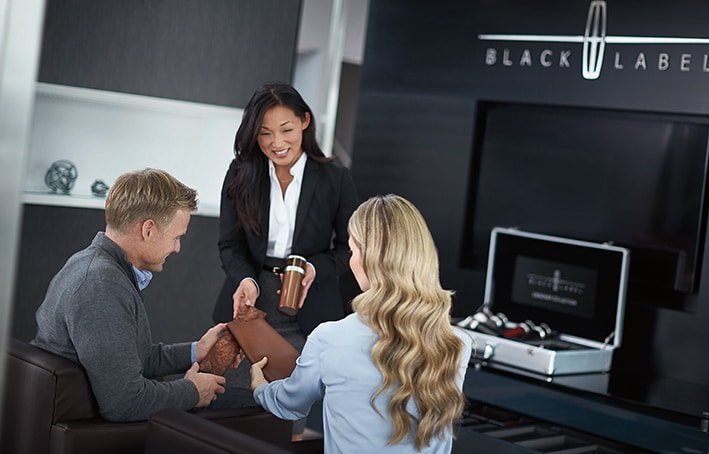 The luxurious experience of being a Lincoln Black Label member doesn't end once you walk out of the Lincoln Black Label Customization Room. There are membership privileges and benefits that are included.
Convenience For You - Although we have our Lincoln Black Label Customization Room, we do offer to visit your home or office with our mobile showroom. If you have already purchased a Lincoln Black Label model, we extend our convenience service by picking up or delivering your Lincoln for any service or maintenance visits. We also provide you a vehicle while yours is being maintained.
Vehicle Care - Messes are inevitable, but you can keep your Lincoln Black Label clean with complimentary car washes and annual detailing.
Premium Maintenance - Every Lincoln Black Label purchase includes a four-year/50,000-mile maintenance plan. All of your routine maintenance and even vehicle wear is covered. 
Culinary Collection - When you are a member you are given access to a wide-collection of upscale restaurants. All you have to do is call the Lincoln Black Label reservation center to acquire a members-only reservation.
 
Experience the Lincoln Black Label membership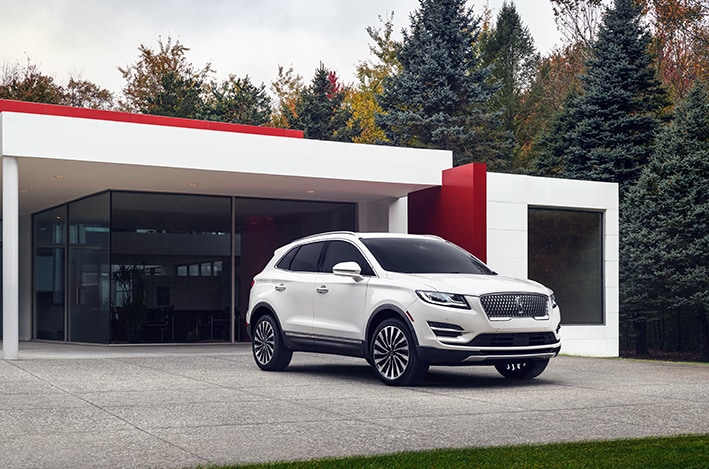 If you are interested in accepting our Lincoln Black Label Customization Room invitation, then please join us at Heiser Lincoln, in Glendale, WI, today. We anticipate your visit and are ready to assist you.